Šesti međunarodni festival klasične glazbe Novi Vinodolski 2016. /
The 6th International Classical Music Festival Novi Vinodolski 2016
Svečano otvorenje / Opening ceremony
Utorak, 19. srpnja u 21.00 / Tuesday, July 19, 9 p.m.
Varaždinski kvartet / The Varaždin Quartet
Marko Jerbić, violina / violin
Anđelko Ilčić, violina / violin
Ana Trnjar, viola / viola
Davor Gluhak, violončelo / cello
Gošća koncerta Petra Labazan, oboa / Guest of the concert Petra Labazan, oboe
Program
Reicha (1770-1836)

 

Kvintet op. 107  u F-duru za obou i gudački kvartet /
Quintet Op. 107 in F major for oboe and string quartet

Allegro non tanto
Andante siciliano
Menuetto. Allegro
Finale. Allegro vivace

Ž. Brkanović (1937-)
Adagio za gudački kvartet / Adagio for String Quartet
W. A. Mozart (1756-1791)

Gudački kvartet No. 7, KV 160 u Es-duru / 
String Quartet No. 7, K 160 in E flat major

Allegro
Un poco adagio
Presto

B. H. Crusell (1775-1838)

Divertimento op. 9 u C-duru za obou i gudački kvartet /
Divertimento Op. 9 in C major for oboe and string quartet

Allegro – Andante poco adagio – Allegro – Allegro vivace
 
Varaždinski kvartet osnovan je 1999. godine. U gradu duge gudačke tradicije do ideje osnivanja kvarteta glazbenici su došli muzicirajući zajedno u Varaždinskom komornom orkestru. Bili su članovi mnogih istaknutih hrvatskih orkestara – Simfonijski orkestar HRT, Orkestar kazališta Komedija, Hrvatski komorni orkestar, Zagrebački komorni orkestar, a bavili su se i pedagoškim radom. Trenutno su zaposleni u Slovenskom narodnom gledališču u Mariboru.
Tijekom proteklih 15 godina kvartet je ostvario širok koncertni repertoar, na kojem se nalaze djela najpoznatijih imena klasične glazbe, a kvartet često izvodi i djela domaćih autora.
Svoju koncertnu djelatnost kontinuirano upotpunjuje koncertima diljem Hrvatske, Slovenije, Austrije i Njemačke. Svi članovi kvarteta akademski su glazbenici, diplomanti Muzičke akademije u Zagrebu.
The Varaždin Quartet was founded in 1999. In the town of long string music tradition, the idea of creating a string quartet arose among musicians who played together in the Varaždin Chamber Orchestra. They were members of renowned Croatian orchestras: Croatian Radio and Television Symphony Orchestra, orchestra of the theatre Komedija, Croatian Chamber Orchestra, Zagreb Chamber Orchestra, and were also active as string teachers. For the time being, they are employed at the Slovene National Theatre in Maribor (Slovenia).
Over the last fifteen years, the Quartet has built up an extensive concert repertoire, including the most renowned works of classical music, as well as works by Croatian composers.
The Quartet regularly gives concerts in Croatia, Slovenia, Austria and Germany.
All of its members have graduated from the Academy of Music of the Zagreb University.
Petra Labazan diplomirala je na Muzičkoj akademiji Sveučilišta u Zagrebu. Tijekom studija polazi nastavu barokne glazbe u klasi M. Penzara i četiri je godine stipendistica austrijske Međunarodne ljetne škole Prag-Wien-Budapest. Poslijediplomski studij pohađala je u Lausannei, u klasi V. Gay-Balmaza. Usavršavala se u solističkoj interpretaciji kod brojnih renomiranih oboista, kao što su: G. Turetschek, K. Leinbacher, E. Csanky, M. Šarc, S. Dent, F. Menzel, R. Perrenoud, a u komornom muziciranju kod glazbenika, među kojima se ističu: D. Schnebelli, G. Janota, A. Friedrich, A. Prinz, J. Jenko i A. Kacjan.
Stalna je članica ansambala za baroknu glazbu: Hrvatskog baroknog ansambla, Balkanskog baroknog sastava sa sjedištem u Parizu te Baroknog ansambla Aestas Musica. Solistički i kao komorna glazbenica koncertirala je u Hrvatskoj, Sloveniji, Bosni i Hercegovini, Austriji, Njemačkoj, Mađarskoj, Belgiji, Švicarskoj, Francuskoj, Grčkoj, Bugarskoj i Rumunjskoj. Bila je koncertna majstorica pri izvedbi Gran Partite W. A. Mozarta u švicarskom Château de Grandsonu. Ostvarila je uspješne suradnje s brojnim domaćim i inozemnim orkestrima i ansamblima. Snima za potrebe Hrvatske radiotelevizije, a od 2009. u statusu je samostalnog umjetnika.
Petra  Labazan graduated from the Academy of Music of the Zagreb University. During her studies, she took the elective course on the performance of Baroque music with M. Penzar and received a scholarship of the International Summer Academy Prague-Vienna-Budapest. After graduation, she continued her post-graduate studies with Vincent Gay-Balmaz at the Lausanne Conservatoire in Switzerland.
She perfected her soloist studies in master classes given by various renowned oboists, such as G. Turetschek, K. Leinbacher, E. Csanky, M. Šarc, S. Dent, F. Menzel, R. Perrenoud, as well as in chamber music with D. Schnebelli, G. Janota , A. Friedrich, A. Prinz, J. Jenko and A. Kacjan.
She is a member of various Baroque music ensembles, such as the Croatian Baroque Ensemble, international ensemble Balkan Baroque Band in Paris, and Aestas Musica Baroque Ensemble. Both as a soloist and chamber musician she has given concerts in Croatia, Slovenia, Bosnia and Herzegovina, Austria, Germany, Hungary, Belgium, Switzerland, France, Greece, Bulgaria and Romania. She was the concert master in the performance of Gran Partita by W. A. Mozart in Château de Grandson (Switzerland).
She holds the status of a freelance musician and performed successfully with numerous national and international orchestras and ensembles. She records for the Croatian Radio and Television.
Utorak, 26. srpnja u 21.00 / Tuesday, July 26, 9 p.m.
Márlou Peruzzolo Vieira, gitara / guitar, Brazil
Program
J. K. Mertz (1806-1856)

Elegy

S. de Murcia (1673-1739)
Adelita
Mazurka en Sol / Mazurka in G
Capricho Arabe / Arapski capriccio / Arab Capriccio


R. Gnattali (1906-1988)

Brasiliana No. 13

I. Samba – Bossa Nova
II. Valsa
III. Choro

M. C. Guarneri (1907-1993)

Valsa – Choro

R. Miranda (1948-)
Appassionata
Márlou Peruzzolo Vieira diplomirao je 2007. na Saveznom sveučilištu Santa Maria (Brazil). God. 2010. magistrirao je na Saveznom sveučilištu Goiás (Brazil). Od 2012. Peruzzolo pohađa doktorski studij na Sveučilištu u Aveiru (Portugal).
Osvojio je prestižne nagrade: prvu nagradu na 30. latinsko-američkom natjecanju Rosa Mística (Curitiba, Brazil, 2011.), drugu nagradu na 3. natjecanju Eustaquio Grilo (Brazilija, Brazil, 2009.), diplomu na 11. natjecanju Musicalis (São Paulo, Brazil, 2007.).
Imao je čast izvesti svjetsku praizvedbu glazbenih djela za gitaru skladatelja Samuela Peruzzolo-Vieire i Marcela Raute, te portugalske praizvedbe djela autora Ricarda Tacuchiana i Celsa Loureira Chavesa. Djelovao ja kao profesor na Saveznom sveučilištu Goiás (Brazil) i na Konzervatoriju São Teotónio u Coimbri (Portugal). Održao je niz solističkih koncerata u Portugalu i Brazilu te nastupio kao solist uz Simfonijski orkestar Santa Marije.
Peruzzolo je na glazbenim festivalima u Brazilu, Argentini i Portugalu bio među odabranima koji su imali priliku raditi s renomiranim svjetskim gitaristima, kao što su E. Isaac, E. Fernández, J. Perroy, M. Escarpa i A. von Wangenheim.
Márlou Peruzzolo Vieira graduated in music from the Federal University of Santa Maria (Brazil) in 2007. In 2010, he earned his master's degree at the Federal University of Goiás (Brazil). Since 2012, Márlou Peruzzolo has been living in Portugal where he attends the PhD studies in Musical Performance at University of Aveiro.
He has been honoured with distinct prizes, such as: first prize at XXX Rosa Mística Latin American Competition (Curitiba, 2011), second prize at III Eustaquio Grilo Competition (Brasilia, 2009) and an honourable mention at XI Musicalis Competition (São Paulo, 2007).
Peruzzolo was given the honour of premiering solo guitar works by  Samuel Peruzzolo-Vieira and Marcelo Rauta (world premieres), as well as Ricardo Tacuchian and Celso Loureiro Chaves (Portuguese premieres). He is a former professor at Federal University of Goiás (Brazil) and São Teotónio Conservatory of Music in Coimbra (Portugal). Throughout his career he performed in Portugal and Brazil, including a concert as a soloist with the Symphony Orchestra of Santa Maria.
Peruzzolo was selected to participate in music festivals in Brazil, Argentina and Portugal to study with renowned guitarists, such as E. Isaac, E. Fernández, J. Perroy, M. Escarpa and A. von Wangenheim.
Utorak 2. kolovoza u 21.00 / Tuesday, August 2, 9 p.m.
Komorni trio  Crisóstomo Chamber Trio
Krešimir Marmilić, violina / violin
Matija Štajcar, violončelo / cello
Biserka Krčelić, harfa / harp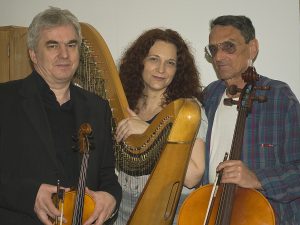 Program
M. T. von Paradis (1759-1824)

Sicilienne

J. G. Albrechtsberger (1736-1809)

Partita in C za violinu, violončelo i harfu / for violin, cello and harp

Moderato
Menuet
Adagio
Presto

F. Kreisler (1875-1962)

Chanson Louis XIII.  
Pavana 

J. Snoer (1868-1936)

Molitva op. 35  za violinu, violončelo i     
harfu / Prayer Op. 35 for violin, cello and harp

A. Glazunov (1865-1936)

Španjolska serenada / Spanish Serenade

B. Baumgarten (1944-)

Elegija / Elegy

D. Šostakovič (1906-1975)

Romanca iz filma The Gadfly / Romance from the film The Gadfly

M. Miletić (1925-)

Prije i poslije Holandije / Before and after

R. Lowland (1955-)

Invitation
Heart strings
Komorni trio Crisóstomo zadnjih se godina nametnuo kao nesvakidašnji sastav glazbenika izuzetno bogatih iskustvom u izvođenju komorne glazbe. Svojim su nastupima donijeli programsko osvježenje na našu koncertnu scenu te ih publika redovito ispraća s ushićenjem i odobravanjem. Rab, Poreč, Labin, Pazin, Biograd, Tisno…, tek su neka od mjesta gdje je Crisóstomo ostvario izvrstan prijam kod publike. Osim djela pisanih u originalu i u obliku obrada za njihov sastav, pozornost posvećuje i hrvatskim autorima koje često izvodi na svojim koncertima.
Krešimir Marmilić diplomirao je na Muzičkoj akademiji u Zagrebu, usavršavao se kod H. Kowalskog na Sveučilištu Indiana. Nastupao je na gotovo svim hrvatskim pozornicama, u Sloveniji, Austriji, Švicarskoj, Njemačkoj i Španjolskoj. Pronalazi i praizvodi djela starih hrvatskih autora. Objavio je rukopise nota F. Krežme, a inicijator je i tiskanja djela I. M. Jarnovića i F. Krežme. Voditelj je i osnivač gudačkog kvarteta Cadenza, kao i nekoliko komornih sastava.
Matija Štajcar violončelo je učio kod glazbenih pedagoga Csifary, Baerta, Van Doorna i Gendrona. Bio je član Simfonijskog orkestra Belgijske radio-televizije, Solista Belgijskog komornog orkestra, orkestra Kraljevske opere La Monnaie u Bruxellesu, Kraljevske opere u Gentu te Simfonijskog orkestra Zapadno-njemačkog radija. Također, bio je član mnogih komornih sastava: Trija Musical Consort, Gudačkog kvarteta Cadenza, C.P. Musica Sacra, Klavirskog trija MAK. Stalni je član Komornog dua i trija Crisóstomo.

Biserka Krčelić diplomirala je na Muzičkoj akademiji u Zagrebu, magistrirala na Sveučilištu za glazbenu i dramsku umjetnost u Grazu, u klasi A. E. Clark. Nastupa solistički i u raznim komornim sastavima u zemlji i inozemstvu. Surađuje sa svim zagrebačkim orkestrima, a bila je članica simfonijskih orkestara u Grazu i Beču. Redovita je profesorica harfe u Glazbenoj školi Vatroslava Lisinskog u Zagrebu.
Cristostomo Chamber Trio while giving their first concerts at Croatian summer music festivals, they were perceived as an unusual group of musicians, with an extremely rich experience in performing chamber music. Their performances have brought program refreshments to the Croatian concert scene. The audience regularly meets them with enthusiastic approval and long applause. Croatian towns, such as Rab, Poreč, Labin, Buje, Pazin, Biograd, Tisno, Županja, Murter…, are just some of the places where Crisostomo was  received with great acclaim. At concerts, the Crisostomo Chamber Trio performs works written originally for the trio, but they also often perform works by Croatian composers.
Krešimir Marmilić graduated from the Zagreb Academy of Music and refined his talent under Henryk Kowalski at the Indiana University. He has performed as a soloist in Croatia, Slovenia, Austria, Switzerland, Germany and Spain. Since 1991, he has been researching and organizing first performances of compositions by Croatian composers of the past, with which he appeared on the Croatian Television, in programmes dedicated to Krežma, Jarnović and Spadina, for which he had also written the scripts. He also published six music manuscripts by Franjo Krežma under the title Album. Marmilić is the founder and leader of the Cadenza Zagreb String Quartet (1995). He is also a member of the Chordes Trio, the MAK Piano Trio, and the Crisostomo Chamber Trio and Duo. He has collaborated with orchestras in the United States, Spain, the Netherlands, Slovenia and Croatia. He has had the status of a Croatian freelance artist since 1999.
Matija Štajcar, cello, was born in Zagreb. He was a member of various orchestras: BRT Symphony Orchestra, Opera Royal de La Monnaie, Brussels, WDR Symphony Orchestra, and chamber orchestras: Belgian Chamber Orchestra, Trio Musical Consort, Musica Sacra, and Cadenza String Quartet, Zagreb. He also performed as a soloist.
Biserka Krčelić has graduated from the Zagreb Academy of Music, and
earned her M. A. degree at the University for Music and Performing Arts in Graz, Austria, within the class of A. E. Clark. She performs as a soloist and in various chamber ensembles in Croatia and abroad. She collaborates with all Zagreb orchestras and was a member of symphony orchestras in Graz and Vienna. She is a full professor of harp at the Vatroslav Lisinski Music School in Zagreb.
Ponedjeljak, 8. kolovoza u 21.00 / Monday, August 8, 9 p.m.


Komorni orkestar "Splitski virtuozi" / The Virtuosos of Split Chamber Orchestra

dirigent i solist / conductor and soloist Vladimir Kosjanenko
Program
L. Sorkočević (1734-1789)

Simfonija u D-duru, br. 3 / Symphony in D major, No. 3

Allegro
Andante
Presto

M. Bruch (1838-1920)

Romanze für Viola und Orchester, op. 85 
/ Romance for Viola and Orchestra, Op. 85

F. von Suppé (1819-1895)

Uvertira iz opere Laka konjica / Light Cavalry Overture

G. Th. Holst (1874-1934)

St.Paul`s Suite za gudački orkestar, op. 29, br. 2 
/ St. Paul's Suite for String Orchestra, Op. 29, No. 2
Jig – Ostinato – Intermezzo – Finale (The Dargason)

B. Bartók (1881-1945)

Rumunjski plesovi za gudački orkestar, Sz. 56 
/ Romanian Folk Dances for String Orchestra, Sz. 56

I. Jocul cu bâtă / Ples sa štapom / Stick Dance (Mezőszabad, Maroas-Torda)
II. Brâul / Kolo / Sash Dance (Igriș,Torontal)
III. Pe loc / Tapkanje na mjestu / In One Spot (Igriș, Torontal)
IV. Buciumeana / Bučumski ples / Dance from Bucsum (Bisztra,Torda-Aranoyos)
V. Poarga Românească / Rumunjska polka / Romanian Polka (Belényes, Bihar)
VI. Mărunțel / Brzi ples / Fast Dance (Belényes, Bihar)
Na poticaj Glazbene mladeži i drugih kulturnih organizacija grada Splita udružili su se istaknuti profesionalni splitski glazbenici pod umjetničkim vodstvom internacionalno renomiranog austrijsko-hrvatskog violista i dirigenta Wladimira Kossjanenka i osnovali perspektivni gudački komorni orkestar Splitski virtuozi. Za visoku profesionalnu razinu novoosnovanog ansambla i cjelokupnog projekta odgovorni su aktivni internacionalno priznati glazbenici, a ujedno i profesori Glazbenog odjela Umjetničke akademije Splita – solo-violončelist Mihovil Karuza (Hrvatska), solo-violist Pavel Kondrusevich (Bjelorusija) te gostujući koncertni majstor Dragan Radosavljević, profesor violine na Visokoj školi za glazbu Hanns Eisler u Berlinu.
Posebna pažnja članova utemeljitelja Splitskih virtuoza usmjerena je prema odgoju glazbenika mlađe generacije kroz aktivno sudjelovanje u pripremi koncertnih programa ansambla, kao i organiziranje seminara i umjetničkih radionica.
Austijsko-hrvatski violist i dirigent VLADIMIR KOSJANENKO studirao je violu kod V. Stopičeva i dirigiranje kod I. Musina na Državnoj akademiji Nikolaj Rimski-Korsakov u St. Petersburgu. Za vrijeme studija bio je asistent dirigenta i solo-violist Ansambla Lenjingradskih solista.
God. 1991., na poziv C. Abbada dolazi kao član orkestra Gustav Mahler u Beč, gdje 1999. magistrira summa cum laude na bečkom Sveučilištu za glazbu, u klasi T. Kakuske. Od 1996. do 1997. studirao je kod M. Kugela na Kraljevskom konzervatoriju u Gentu, Belgija. Od 1993. do 1996. bio je stalni supstituent Bečkih filharmoničara, gdje je surađivao s poznatim dirigentima, kao što su L. Maazel, C. M. Giulini, Sir G. Solti, R. Muti, P. Boulez, Sir S. Rattle i C. Abbado.
Od 1994. do 1998. bio je angažiran u Filharmonijskom orkestru u Grazu kao prvi solo-violist.
God. 1997. osvojio je nagradu na Natjecanju Lionel Tertis u Engleskoj te nagradu švicarske Zaklade Perrenoud. Od 1998. do 2007. bio je član poznatoga Gudačkog kvarteta Hugo Wolf u Beču. God. 1999. dobio je Europsku nagradu za komornu glazbu u Parizu, te 2003. nagradu Austrijskog radija u Beču.
U proteklih 15 godina izveo je više od 500 komornih i solističkih koncerata u Europi, Aziji, Južnoj i Sjevernoj Americi.
At the suggestion of the Jeunesses Musicales and other cultural institutions in Split, outstanding professional musicians of the city gathered under the artistic leadership of the internationally renowned Austro-Croatian violist and conductor Vladimir Kosyanenko and founded a highly promising string chamber orchestra The Virtuosos of Split. The high professional level of the newly founded ensemble and the project on the whole is guaranteed by the active, internationally prominent musicians and also professors at the Music Department of the Arts Academy of the University of Split – solo cellist Mihovil Karuza (Croatia), solo violist Pavel Kondrusevich (Belarus) and the guest concertmaster Dragan Radosavljević, violin professor at the Hochschule für Musik Hanns Eisler in Berlin.
Special attention of the founding members of The Virtuosos of Split is directed at training musicians of a younger generation through their active participation in the preparations of the ensemble's concert programmes, as well as in the organization of seminars and workshops.
The Austro-Croatian violist and conductor VLADIMIR KOSYANENKO studied the viola under V. Stopičev and conducting under I. Musin at the State Conservatory Nikolai Rimsky-Korsakov in St. Petersburg. During his studies, he was the assistant conductor and solo violist of the Leningrad Soloists. In 1991, following an invitation of C. Abbado, he came to Vienna in order to become a member of the Gustav Mahler Orchestra. It was also in Vienna in 1999 that he earned his MA degree summa cum laude at the Universität für Musik, in the class of T. Kakuska. In 1996/97, he studied with M. Kugel at the Royal Conservatory in Gent, Belgium. From 1993 to 1996, he was a permanent substitute of the Viennese Philharmonic, collaborating with famous conductors, such as L. Maazel, C. M. Giulini, Sir G. Solti, R. Muti, P. Boulez, Sir S. Rattle and C. Abbado. From 1994 to 1998, he was first solo violist of the Grazer Philharmonic. In 1997, he won a prize at the Lionel Tertis International Viola Competition in England, and the award of the Swiss Perrenoud Foundation. From 1998 to 2007, he was a member of the renowned Hugo Wolf String Quartet in Vienna. He was awarded the European Prize for Chamber Music in Paris in 1999, and the prize of the Austrian Radio in Vienna in 2003.
In the past fifteen years, Kosyanenko has given over 500 chamber and soloist concerts in Europe, Asia, South and North America.